"Balance" is one of my latest embossed paper works, and one of the largest I've created so far, with the coloured part measuring — x — cm . It is currently on show at Skylark Galleries 1 in Gabriel's Wharf. The base paper is a hand-made cotton paper from France called du Chene, it's weight is 600 gsm. The black layer is a Japanese Mingeishi paper and the pale blue is a Japanese mulberry paper with long silk threads. I'm particularly pleased with the effect of the translucent blue over the opaque black paper.
The silver leaf goes on last after the embossed papers have dried completely, the drying is a very long slow process which is necessary to prevent losing the emboss.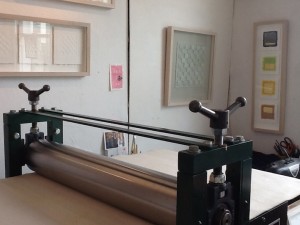 This is the press that I use to create my embossed pieces. It was handed down to me from a lovely woman and accomplished printmaker Eileen Martin who sadly passed away in March 2014. Every time I turn the handle I always send a warm loving thank you to Eileen.  She was an active member of Skylark Galleries for the last ten years of her life and was very happy with us. She is warmly remembered and sadly missed.