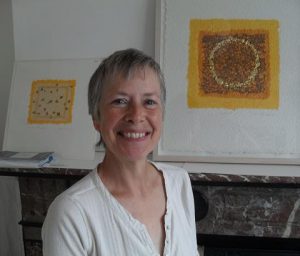 Born in Farnborough, Kent in 1955; Gill taught for many years and now has a studio in South East London where she takes part in local annual open studio events.
Gill Hickman creates embossed collages & prints, and textured surfaces on canvas, often including gold leaf, to express her ideas and feelings about life.
Her work draws from patterns, layers and textures in the environment and in life – she views life as a journey of discovery, in which layers are gradually peeled away to reveal underlying truths. As a meditator of many years, Gill often receives inspiration for new artworks during her daily practice
Having faced and survived a serious health issue in the late 80's, Gill believes that art, meditation and visualisation can support our health and well-being. She runs weekly meditation classes in both Brockley and Dulwich SE London. See the Meditation page for details.
Gill has been involved with the artist-run Skylark Galleries on London's South Bank since 1998 and has been the director since 1999. Skylark is a group of around 30 artists who collectively run the two small friendly galleries. Gill always has a selection of works on display in both galleries and is regularly to be found there doing shifts in the galleries.
To enquire about sales and commissions or to receive Gill's newsletter updates, please contact Gill at gill@gillhickman.com
Skylark Galleries
Skylark Galleries 1, Studio 5, Gabriel's Wharf, 56 Upper Ground, London SE1 9PP
Skylark Galleries 2, Unit 1.09, First Floor Riverside, OXO Tower Wharf, Barge House Street, London SE1 9PH