In September I had a wonderful time in this beautiful friendly city with my Skylark colleagues. Our stand A7 looked "the best it's ever looked" with a fantastic mixture of art by; KitBoyd, Ruty Benjamini, Nicolette Carter, Angelique Hartigan, myself, Eryka Isaak and Nick Kobyluch.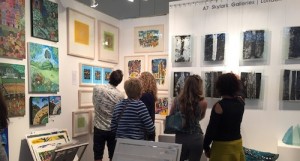 All our work was very well received by customers old and new, and some of us enjoyed being "stitched up" by the artist-in-residence Harriet Riddell. Look her up – you can book her to come to an event you are having; she will sew portraits of all your guests  www.institchyou.co.uk
and see if you can guess who this is???